When You Give Back to Millersville Students, the Honor is All Yours

For fifty-five years, the annual honors and awards convocation has recognized and celebrated the achievements of undergraduate students, alumni and programs. When you choose to support Millersville University, you're not only making a direct impact on a student today, but helping to shape the next generation of aspiring graduates. It's not only a great feeling, but a great honor.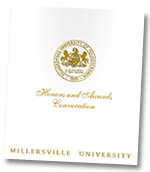 Honors and Awards
Take a look at this years Honors and Awards program and see how many students were helped by your gifts.