Millersville University will open at 10 a.m. 3/22
Due to Winter Storm Toby and the heavy snowfall, Millersville University will open at 10 a.m. on March 22. The grounds crew has been working hard to clear roads, parking lots and sidewalks, but needs some extra time in the morning to make sure walkways are clear.
Pre-Med Programs
General Information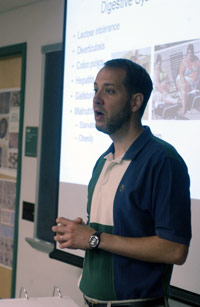 Academic requirements for admission to medical schools vary, so no specific major is recommended. The science core curriculum for medical, dental, and veterinary school is generally very similar.
Students should check specific requirements for the schools to which they are applying. For example, some veterinary colleges may require courses in genetics and biochemistry as part of a student's pre-professional studies . Important considerations for medical school admission are a good academic grade point average and a strong selection of science courses.
Prerequisite courses are available for students wishing to go on to study allopathic medicine (M.D.), osteopathic medicine (DO.), optometry, podiatry or veterinary medicine. Although most students who apply to medical school major in biology and chemistry, Millersville University students majoring in Psychology, English, and International Studies have been accepted by medical schools. In addition, post baccalaureate students who majored in Computer Science, Speech Therapy, Nursing, and Sociology completed their science core requirements at Millersville University before beginning their medical school education.