"Mount" of a gift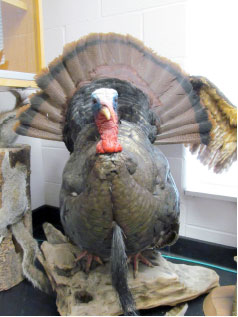 Donor Profile: Stephen Micio '59

Type of Gift

Taxidermy samples for the biology department
(Responses provided by Dr. Aaron Haines, biology faculty)
How will the students benefit from Stephen Micio's gift of taxidermy samples?

Students will be using Mr. Micio's taxidermy samples in multiple courses including Ornithology, Mammalogy, Zoology and others. For me, these Taxidermy mounts are similar to designating yourself as an organ donor on your driver's license. Thus, the bodies of these animals are not wasted, but rather used for the benefit of science and educational purposes for many years to come. Our museum collection hosts animal mounts that are over 100 years old. It is great to have this type of biological history here on campus. For example, we have some animal mounts of species that are now rare, but were plentiful at the time they were prepared.
In what ways do students use samples in their studies?

These taxidermy specimens allow students to get as close as possible for examination, in some cases being able to touch the animal and feel it. Students are able to look at the subtle morphological characteristics of the different species for proper identification. Students can also gain an appreciation of size for some of these animals. Taxidermy is not only used in science, the art department also uses the taxidermy mounts for their courses, mainly as a drawing reference. In fact, many consider taxidermy an art onto itself. In addition, we hope to put some of these taxidermy mounts on display in Roddy Hall so all visitors can take look at these animals close up and learn a little something about them. My goal, with the help of students, is to re-vamp many of our animal display mounts in Roddy Hall.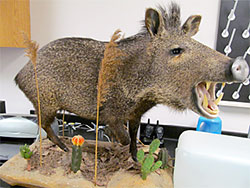 Please share any highlights of current work within the department?

We are currently re-organizing our museum collection and the addition of Mr. Micio's mounts will be a great addition to our museum. These taxidermy mounts in our museum help document the presence of particular species at a particular place and time. This allows us to examine geographic and temporal changes in animal populations, species, communities and to track those patterns in relation to natural or human-induced changes in the environment (e.g., climate change, landscape alteration, etc.). Museum specimens form the basis for research on evolution, speciation, distribution and also provide an important baseline for studies of conservation. Specimens and associated data (e.g., field notes of habitat, recordings of song, reproductive and age information, etc.) also provide basic information on natural and life history traits of animals.