Young alumni stay faithful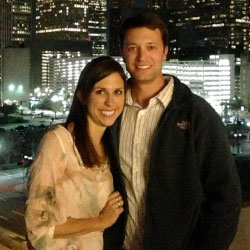 Donor Profile: Jeannie '06 and Kenn Ludwig '07

Type of Gift

Members of the Golden Swan Gift Society and faithful donors to the Impact Fund. 
What is your relationship to Millersville University?

I graduated from Millersville University in 2006 with a bachelor's in business administration, concentrations in marketing and management.
Why did you choose to make a gift to the University?

In addition to the classes I took, I benefited from many of the resources Millersville had to offer – including career services, intramural sports and various clubs – all of which helped shape who I am today, both personally and professionally. I wanted to give back to support giving current Millersville students the same opportunity.
Please share highlights of your experiences at Millersville as a student.

Most of my favorite memories of Millersville center around the people I met there – the professors, my classmates, my friends and my husband, Kenn! Kenn graduated in 2007, and although we live in Houston, we both still keep in contact with many of our college friends. While memories made at E-Courts and Brookwood come to mind, the biggest highlight is the quality and value of the education afforded to Millersville students and the opportunities to get involved in extra-curricular activities.
As a younger alumna, what made you decide to give back now?

My husband and I both are fortunate to have graduated from Millersville – we are establishing ourselves professionally thanks to the education we received and the people we have met. We wanted to give back now that we are no longer poor college students!
How are students able to benefit from your gift today?

I hope our donation encourages other young alumnae to donate as well so current and future students at Millersville can have as many opportunities to become involved as we did.