Parents give back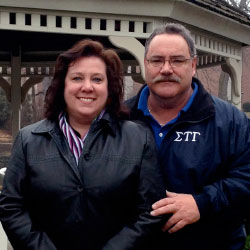 Donor Profile: Matt '83 and Leah '84 Hepler

Type of Gift

Impact Fund. 
What are your relationships to Millersville University?

Matt graduated from Millersville University in 1983 with a bachelor's in business administration, concentration in marketing. He was in the first class that graduated at Millersville University after the change from Millersville State College. I graduated from the University in 1984 with a bachelor's in business administration, concentration in accounting.
Matt was the 2007 'Ville Idol Alumni Champion and is also on the Board of Directors of the Millersville Chapter of Sigma Tau Gamma Alumni Association. I was recently asked to volunteer as part of the Impact Leadership Council at Millersville.
We are also the proud parents of our daughter, Courtney, who is currently a junior at Millersville University and a sister of Delta Zeta.
Why did you choose to make a gift to Millersville University?

Since graduation, we have consistently supported the University with contributions. We feel it is important to give back to the University that gave so much to us. Millersville University gave us opportunities to pursue successful careers in our field of study.
Please share highlights of your experiences at Millersville as a student.

In addition to the pursuit of academic endeavors, we were both very active in the Greek Life as members of Sigma Tau Gamma Fraternity and Sigma Phi Omega Sorority. We participated in many service projects and intramural sports as members of our Greek organizations. As a representative of Sigma Phi Omega, I was the 1983 Millersville University Charity Queen. Matt also was a member of the Millersville Swim and Water Polo teams.
Most importantly we met at Millersville and share many personal memories of our time together at the 'Ville, especially time spent at the pond.
As both alumni, how does it feel to be parents of a current student at Millersville?

We are very proud of Courtney and thankful that she made the decision to attend Millersville. We are sure that Millersville University will give her the exceptional educational opportunities needed to prepare her for a successful future. Courtney is as active academically as she is socially, just as we were.
How are students able to benefit from your gift today?
We have consistently contributed to the Annual Fund since graduation knowing that the funds donated by alumni would help to keep the University stay ahead of the curve and offer the best learning opportunities to the current students.