Love of learning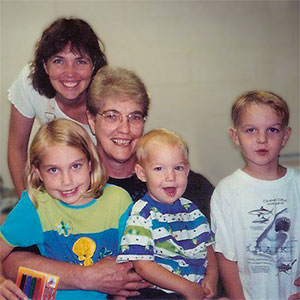 Type of Gift: 
Dr. Cynthia C. Dilgard Scholarship
What is your relationship to Millersville University?
My mother taught Shakespeare, English literature, and technical writing at Millersville University in the English department, which she also chaired for many years.  She completed her dissertation on William Blake and received her PhD from Vanderbilt University. She taught at a private college in Nashville for 15 years before joining Millersville in 1979.  Mom was devoted to the MU campus, the professors she worked with, her staff, and her students until she retired in 2004. 
Why did you choose to create the Dr. Cynthia Dilgard Scholarship?
I cannot think of a better way to honor my mother and pass on her love of learning to future students at Millersville. Mom was a firm believer in liberal arts education, and she encouraged students to explore a variety of courses before focusing on a major.
How are students able to benefit from your gift today?
We have established a scholarship for students who enjoy Shakespeare, Mom's most favorite author to teach.  Since many of Mom's memorable students were not English majors, we have opened this scholarship to all students who have a love of Shakespeare.  A student doesn't have to be an English major to read and get something out of Shakespeare (and that applies to all literature and students of all ages as my mom would say).  
Can you tell us a little bit more about your mother?
My mother was the first in her family to go college.  She grew up in rural Tennessee and attended a one-room schoolhouse until high school.  She had to study before and after high school to catch up with her peers, but she did and even graduated as valedictorian, co-captain of the basketball team, and class president (the first female president in the school's history).
School was always important for my mom and she passed her love of learning, independence, and sense of adventure to her two daughters and her beloved grandchildren. Because my mother enjoyed new experiences and exploring faraway places, one of her favorite teaching assignments at Millersville was her study abroad trip with her students to the University of Strathclyde in Glasgow, Scotland.  Her first grandchild was living near London at the time, so she extended her stay in the United Kingdom before and after that assignment with trips to the many museums and literary destinations southern England has to offer.