Class of 1964 Reunion Events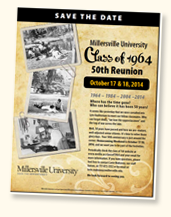 Welcome to the Class of 1964's website:   
It seems like yesterday that we were corralled into Lyte Auditorium to meet our fellow classmates.   Who can forget dinks, "We love the upperclassmen", and the tug of war across the lake. 
Well 50 years have passed and here we are---mature, well-adjusted senior citizens.  It's time to relive those glory days.  Your 50th anniversary is just around the corner:  Homecoming 2014 is October 17-18, and we want you to be part of the festivities. 
Periodically check this website and your emails for more information.  If you have questions, please feel free to contact Lorie Mahoney, our staff liaison.  Her contact information is lorie.mahoney@millersville.edu or (717) 872-3352.
We look forward to seeing you. 
Sincerely,
Joe Lisi
Class President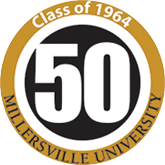 Reunion Information
Class of 1964 Reunion Planning Committee
Joanne Arcangelo
Gary Bowman
Art Drescher
Rich Frerichs
Harriet Hawthorne Kometa
Mike Kometa
Bill Lauris
Joe Lisi
Valerie Andrews Mylowe
Leo Shelley
Helen Asbury Stine
John Williams