You should bring...
...to wear:
Comfortable clothes and shoes for class  
One or two dressy outfits and shoes for more formal affairs, include tie, if male
Dress shoes
Work-out clothes and shoes
Bathing suit
Light jacket
Heavy coat, mittens, hat and scarf 
Rainwear - include hooded waterproof jacket
Slippers/Sandals
Hanging closet dividers for storing shoes/sweatshirts, etc
...for your room:
Bedding and Room
Comforter/bedspread
Pillow
Bed linens (first find out what size bed you'll have)
Clothes hangers
Coffee mug
Drinking cups, dishes and silverware for snacks
Poster putty for hanging up decorations
Plastic containers/tight lids for storing snacks, detergent....-(don't want to attract critters)
Salt and pepper shakers-disposable "picnic" type are fine
Headphones/ear buds (so your music doesn't bother your roommate or neighbors)
Digital music player/I-Pod & docking station with speakers or stereo system
Cell phone chargers
Land line phone (univ. knows what # is assigned to each room for emergency contact)
Power strip approved by the housing office
Extensions cords
Desk lamp or bedside lamp (floor or table type)
TV/DVD-Player
Cable cord
Fan
Alarm clock - don't want to be late for class!
Small refrigerator/microwave (check housing/facilities/gen. hall info for restrictions)
Crates or stacking containers
Paper towels, glass cleaner
Dust cloth; mop and/or small vacuum/sweeper
Sewing kit, scissors, safety pins
Message board for your door
Trash can
...for personal hygiene:
Hair dryer
Bathrobe
Shower shoes
Towels, washcloths
Soap
Shampoo
Toothpaste
Toothbrush and travel holder
Shaving cream and razors
Personal items i.e. make-up, deodorant, brush, comb
Feminine hygiene products if female
Small waterproof bucket/basket for carrying shower things
Facial tissues
Laundry basket/bag
Laundry detergent
Dryer sheets
Dishwashing detergent and dish towel
Roll of quarters (for laundry)
...for your health:
Band-Aids
Cold medicine - night-time and day, non-drowsy for class
Aspirin/non-aspirin pain reliever
First-aid kit
...for class:
Computer/laptop
Flash drive for storage and taking to computer labs
Binders, folders
Paper
Writing implements
Eraser and white out
Dictionary
Thesaurus
Backpack for shorter trips off campus or taking to class
Computer Bag for some
Calculator
Day-planner
...for random purposes:
Access to money (i.e. bank/credit union account, bank card, credit card, etc.)
Umbrella
Key ring/Photo ID holder
Flashlight
Camera
Batteries
Sports/recreation equipment
Pre-paid calling cards or family/friends cell phone plan
Snacks for your room-like microwave popcorn, water pitcher
Duct Tape - good for emergency repairs of many items
You SHOULDN'T BRING
Decorative lights for around room
Deep fryers
Grills
Toaster
Pets
Directions to Campus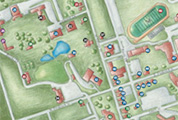 Visit the Millersville University Map for building information, directions, and a printable map.