Student Profiles - Roos Bulthuis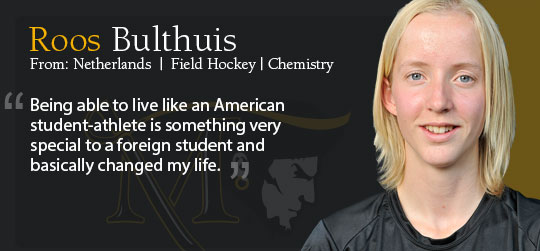 Roos Bulthuis
Class Year: Freshman
Major: Chemistry
Hometown: Alkmaar, the Netherlands
What is your major and minor
My major at Millersville University was chemistry. But I also took classes ranging from psychology and American government, to Spanish and script analysis. Next year I will start a program called "The Academy of Technology and Liberal Arts & Sciences (ATLAS)" at the University of Twente.
What is your hometown?
Alkmaar, the Netherlands
What do you like the most about Millersville University?
The people! Students, faculty and staff were very kind and helpful and are the main reason I enjoyed my time at Millersville so much.
How long did you attend Millersville?
I attended Millersville for the duration of my freshman year.
What is your favorite memory of being in the States?
I have too many to choose from, including making it to the PSAC final with my field hockey team, playing midnight Frisbee and volleyball with friends, late night at the Anchor, interesting classes and making friends for life. Of all these memories, I do not have a favorite.
What did you like the most about your time here?
Being able to live like an American student-athlete. Studying, playing field hockey and having fun with friends form the base of my good experience.
Was it hard to adjust when you first arrived?
When I first arrived in Millersville after a long trip by plane, train and bus, I got lost on campus. Luckily, the housing staff was very helpful and thanks to them, my field hockey team and coach and later all my friends, it was really easy to adjust to the American college life.
Was it hard to adjust to the language barrier?
For me personally, it was not that hard to get used to the American English. In high school I learned the language really well, and thus I could easily switch to English. After a couple of days I even dreamt in it!
Where else did you travel to while here in the States?
I have been to my friend in Edinboro for Thanksgiving, to my family in Tennessee for Christmas, to NYC for New Year's Eve, to Washington, D.C., Philadelphia, the Poconos, Hershey and many more places, including some trips organized by the University or student associations.
What was the transition like when you arrived back in the Netherlands?
As all students will relate to, I had to adjust to being a part of my family again. Even though it felt very different at first, after a couple of days it was like nothing had changed. However, the transition also made me realize that I might not see Millersville and my friends for a long time, which is hard to get used to. Now I am home for over two months, and I am excited to start another adventure.
Would you recommend doing this program?
Yes! I would definitely recommend doing this program. Being able to live like an American student-athlete is something very special to a foreign student and basically changed my life.
Where else would you like to travel too?
I love traveling and thus I would like to see as much as possible of the world including countries like Australia, Indonesia and South Africa.
Do you feel like this experience changed you?
This experience definitely changed me. I feel more confident, and I learned to take care of myself in a different environment. It made me more mature. I also learned some new field hockey skills, which is a plus on the list.
How did you like playing field hockey here?
Being a part of the team was an honor, and I enjoyed almost every minute of it. It was awesome to be able to play and practice every day. I enjoy field hockey so much, that it wasn't hard for me to get ready for another practice or game. I learned a lot from this experience and would definitely do it again if I got the chance.
What about field hockey do you enjoy the most?
As a goalie, I enjoy making an important save during a game the most. However, I also like to practice because I always want to learn new skills and develop myself as a goalkeeper.
Do you play any other sports besides field hockey?
I love going to the gym with friends to play volleyball or soccer. I also enjoyed beach volleyball and Frisbee on the quad, and I sometimes went to fencing practice.
Did playing field hockey help you in making friends here at MU?
Field hockey definitely helped me making friends at MU. Especially during the first couple of weeks it was awesome to be a part of the team because the other girls were always helpful and kind. During games, practices or team events we were a close family, and it felt great to be a member of it.
You were honored with the Gladiator Division II Scholars of Distinction Award for receiving a GPA of 3.9 or higher throughout your first semester here, how did you manage to balance playing sports and maintaining such high grades?
I didn't feel the pressure to maintain high grades, but I still wanted to prove myself and show my professors what I was able to. This internal motivation was a really important factor.
Where do you see yourself in 10 years?
I hope I am a part of a research group developing technological solutions for health care in either the Netherlands or the United States. I hope I still play field hockey, have a close family and am still able to keep in touch with all my American friends.
What advice would you give to a prospective international student?
Try to be as American as possible to get the entire college experience, but above all, be yourself to form your own awesome experience!