Student Profiles - Quinton Collins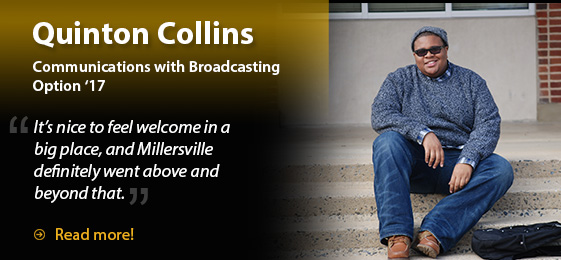 Quinton Collins
Quinton Collins – '17
Wilmington, DE
Communications with Broadcasting Option
What high school did you attend?
I went to Concord High School in Wilmington, Del.
Why did you choose Millersville University?
I wanted to pick a university that was far enough away that I could feel independent, but close enough that if I needed to see my family, I could.
Where is your favorite place to be on campus?
This may sound weird but the old stairs behind the Winter Center. When I lived in Gilbert Hall my sophomore year, I would go to the top of the stairs and look at the president's house. The lamps around his house combined with the sound of nature and the stars was relaxing.
What is one thing you love about Millersville?
It is the perfect mix of a city school and private school. The historic buildings, renovated buildings, size, and overall feel are similar to a private school, but the location is within walking distance from the city. I lived in the city, and I felt at home my first night.
What clubs/activities are you involved with?
UAB (University Activities Board), WIXQ (the on-campus radio station), SHARP Team (Student Ambassadors), Orientation leader for fall 2014, and Call Center worker in the Undergraduate Admissions Office.
What is your favorite weekend activity?
On Saturdays, my friends and I catch the bus and go to Central Market in Lancaster. Central Market is a mix of a farmer's market, a fair and a flea market. They have music, food and people selling different things.
Where/what is your favorite place to visit in the Lancaster area (off campus)?
If you can get to it, the top of the Marriot Hotel in Lancaster city. At the top you can see most of the city; the view is amazing.
What was one aspect of Millersville that stood out to you/surprised you?
When I was growing up, my parents repeated to me, "When you go to college, your teachers are not going to help or care, so you have to take full responsibility." Coming here and having teachers and faculty offer to help surprised me. It's nice to feel welcomed in a big place, and Millersville definitely went above and beyond that.