Student Profiles - Parth Patel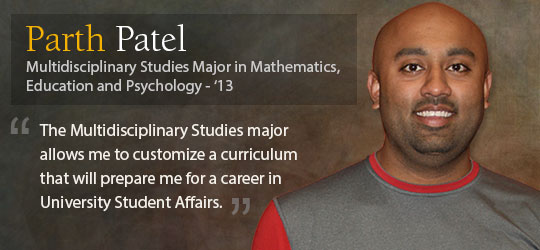 Parth Patel
Class: 2013
Major: Multidisciplinary Studies Major in Mathematics, Education and Psychology - '13
Hometown: Hatfield, Pa.
What made you want to transfer to Millersville University?
Millersville gave me the most transfer credit and has a good reputation.
What made you want to pursue multi-disciplinary studies as your major?
I want to pursue a career in student affairs and this degree option gives me the best chance to do that.
What is the most rewarding aspect of your major?
I get to pull together two areas I'm passionate about and get to utilize those skills.
What are you hoping to do with your degree post-graduation?
Either go onto a graduate program in student affairs or get a job in student affairs.
What are you looking forward to most in your career?
The ability to work with students and make their college experience the best it can be.
Do you have plans to attend graduate school?
Yes I do. I hopefully will be starting next fall.
How long have you been involved with student senate and what position do you currently hold?
This is my second year in senate and I am currently vice president
Are you involved in any other clubs or organizations?
Yes I am. I am also in Lambda Chi Alpha Fraternity. I am their secretary.
Do you currently hold any on-campus jobs?
Yes, I work for tech-ops and set up crew.
What is the best piece of advice you've received?
Do what you love and love what you do. Don't limit your challenges, challenge your limits.