Student Profiles - Liz Fulmer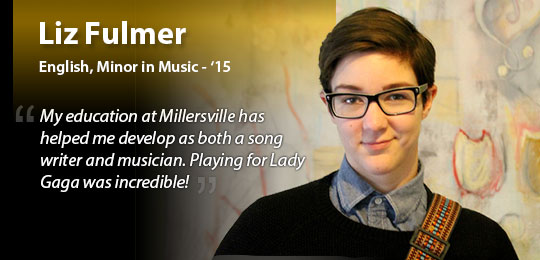 Liz Fulmer
Class: 2015
Major: English, minor in music
Hometown: Lancaster, PA
Where did you grow up?
I'm from Lancaster but spent 6 or so years living elsewhere (mainly Boston and Brooklyn).
Why did you choose Millersville?
I chose Millersville University for a relatively inexpensive education close to my family. All of my literature classes have been beneficial to me in that I they have influenced how I write and what I write about.
Is there a particular professor(s) who have stood out in your time at Millersville?
I have taken as many classes with Dr. Carballo as possible - I enjoy his passion for English and the high level of expectation he places on his students. He made me want to work hard. I also loved the discussion-based classes of Dr. Rosenthal. She encouraged critical thinking and she made me eager to learn about society and culture through works of literature.
What are your plans after graduation?
After I graduate I am traveling to Scotland just to get away from my daily routines so that I have fresh perspective on what it is I want to do. At this point, music seems to be pulling for me.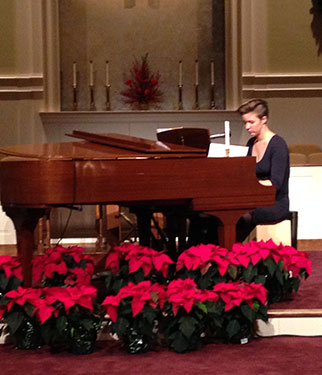 Over the winter break you had the opportunity to play for Lady Gaga at Grandview United Methodist Church in Manheim Township.  Tell us about that experience.
Playing for Lady Gaga was incredible - a tremendous gift for someone who has spent years tracking Gaga's career. I was extremely nervous but also felt very capable of doing my part in the service and doing it with a tremble-free voice. The piece I wrote is one of several I have written for church and one of hundreds that I have written in general.
What was it like to get a text from Lady Gaga?  Will you take her up on her offer of advice on a music career?
Getting that text from Lady Gaga left me speechless. It was that stomach-flip-flop kind of moment. I will take her up on advice once I know what to ask. I don't want to abuse the connection, nor do I want to waste it. I'd like to keep the door open between us.
You said that you study English because being a better writer will make you a better songwriter.  Is that your goal?
I'd like to be a song writer more than any other type of writer. The intensity and brevity suit my style.
How often do you play at Grandview?
I play piano or guitar nearly every Sunday at Grandview as part of their Contemporary Worship team. I don't often play original songs, but I frequently lead the congregation in familiar contemporary Christian tunes.
What are some of your biggest inspirations when it comes to writing songs?
As far as inspiration - people and relationships are my bread and butter. I write about people I have loved and people I have seen; loss and growth.
Any hobbies?
Hobbies include crossword puzzles with my grandparents, traveling, and making a mean Manhattan. 
Finish this sentence: "My life would be incomplete without…"
My life would be incomplete without chaos, spontaneity - those unexpected things that keep you on your toes. And coffee. My life is enriched with lots and lots of caffeine.