Alumni Profile - Joshua Belice
Joshua Belice
What degrees do you currently hold?
I have one bachelor's degree from Millersville. I double-majored and since my programs were both German and English, I was technically only awarded one bachelor's degree in 2008. In 2010, I received a master's degree in English from Millersville and in 2013 I received a master's degree in college student development and administration from Shepherd University.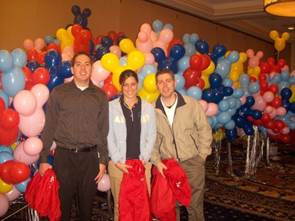 As an undergraduate you were accepted into the Disney College Program, what is the Disney College Program and what was your role?
The Disney College Program is an opportunity with the Walt Disney Company where students have the chance to network with leaders, take part in career development classes and build transferrable skills. Specifically, my role was in Quick Service, a part of the Magic Kingdom in Walt Disney World. I was also often called on to help guests who did not speak English and assist them in ordering food in Spanish, German, French and Italian. As a foreign language major, it really propelled my career by offering real-life translation experience.
How did the Disney College Program impact your future career goals?
Not only did I connect with international guests, I made friends from around the world and learned a lot about the hospitality industry. When I came back to MU, the liberal arts education I was receiving helped me see a lot of parallels between the hotel/hospitality industry and working in a residence hall. The result was an unforgettable experience and the start of my career in higher education.
What alumni have mentored you? How have they impacted you personally and professionally?
There are so many. From childhood, Pam Heller ('79) and Cynthia Jamison (Miller, '79) impacted me personally and I didn't find out they were alums until after I was a student at Millersville. Academically, Carla Rineer ('78) mentored me, and it is because of her that I went for my first master's degree. Professionally, Sharon Knerr ('88), Kathy Jones ('86), Lori Austin (Warfel, '87), Jen Derry (Goodwillie, '03) and Michael Blum ('08) were all mentors that either inspired me to go into higher education professionally or gave me opportunities to engage in regional and national professional associations.
Why did you go to Paris while you were an undergraduate student at MU?
The trip to Paris was a spur of the moment thing. I was studying in Germany with a group of Millersville students and we decided to go spend the Easter holiday in Paris.  
What was your favorite memory or experience during the trip?
The trip to Paris was only a few days in between classes. The most defining moment of that trip was getting swept up in demonstrations, protesting a new labor bill called the Contrat première embauche (Beginners work contract), overtook Place de la Bastille. The police had come and blocked us in, things were on fire and people were climbing on streetlights-- I definitely had to wait until I got home to tell grandma that story!
What alumni did you meet with in Germany? Could you elaborate about your time spent in Germany?
I started developing a passion for the German language in middle school and by high school my nickname was Hans. I first got connected to Millersville University in high school when I spent the summer of my senior year at Millersville for the German Camp. Once I graduated high school, I came back to MU as a German major. During my sophomore year, I was lucky enough to be awarded a scholarship from the Goethe Institute, which allowed me to spend the summer of 2005 in Düsseldorf. I went back to Germany in spring of 2006 to study in Marburg and then would go back every year or two to visit friends or any Millersville students/alumni still there. I also volunteered and taught English in Bavaria in 2014. I actually revisited Germany this past summer with my sister and cousin and met with MU alumni.
How long were you a Resident Assistant (RA) for and in what residence halls?
I was a RA for two years on the ground floor of Gaige Hall. I was also a summer RA in Harbold Hall and was the graduate hall director of Hobbs Hall for two years.
What was your favorite part about being an RA? The most difficult?
The best part by far, as an upper-classman, was getting to know and mentor my residents. We became such a tight-knit community in the G-Unit (as it was known) that nothing was impossible. The bonds built there still hold friendships to this day. The most difficult part? You know you're an RA when you have to schedule time for basic human functions, like eating and sleeping.
Do you have any advice for graduating seniors?
Networking is one of the best ways to propel your career. Consider being active in a local, regional, national or international organization/association. Also, go to the conferences, get published and, most importantly, get connected. The relationships you make with those in your field will do more for your résumé than a 4.0 GPA ever will.
Do you have any advice for incoming freshmen?
Don't be afraid to get involved! At MU, you have the opportunity to get involved with research, clubs and organizations outside of the classroom. The experiences you have here can help you learn how to monetize the skills you plan to use later in your career. Like Winnie the Pooh said, "You can't stay in your corner of the forest waiting for others to come to you. You have to go to them sometimes."
Overall, how has MU shaped you personally and professionally?
I was the first in my family to go to college and came from a single-parent home. I had a one-in-a-million chance to be able to finance my education and, though it wasn't easy, MU really helped me through the process. Now, 10 years later, after a double major and two master's degrees, I'm still working in higher education. The faculty, staff and students I met at Millersville during my time as a student impacted me so deeply that I've dedicated my career to making sure kids who were like me can find the opportunities Millersville can offer.
Where are you currently employed and what are your professional goals?
Currently, I work as assistant director of Admissions at Millersville in Lyle Hall. I recruit prospect students from Adams, Cumberland, Dauphin, Franklin, Lebanon, Lehigh, Luzerne, Monroe, Northampton and York counties. So, if you went to high school in any of those areas, I've probably been to your school! I also do a lot of editing on Millersville's Wikipedia pages. I would really like to publish a book on Millersville, in the next year, so the students of tomorrow don't forget about the students of yesterday. If you haven't read any of the student confessions in Special Collections or seen a picture of the old science building, you really have to check it out.
Is there anything you would like to add?
If you're having a rough day, go to Biemesderfer Center, the old library, and go up the wooden staircase to the second floor landing. Once there you will see the reds and blues of the stained glass windows titled, "Climb Though the Rocks be Rugged." It is a scene the president must pass every day before reaching the Office of the President. Stop, take it in and look at where you are standing at that moment in time. For over a century and a half, our students have faced major challenges—famine, civil/world wars, economic depression and now climate destabilization—but we have always been able to overcome and endure. This is a special place, founded on innovation in education and committed to your success, so stay positive; a friendly face is never far away!