Student Profiles - John Coleman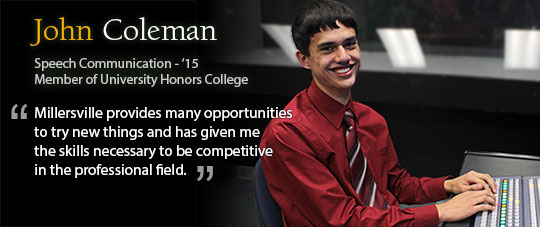 John Coleman
Class: 2015
Major: Speech Communications with an option in Broadcasting and a Computer Science Minor
Hometown: Mount Joy, Pa
What made you want to attend Millersville University?
I knew Dr. Dorman from my hometown church. He was a good family friend. He told me that that I would have many opportunities in the broadcasting program at Millersville. I think that Millersville is a campus that really promotes learning and is filled with professors who care for their students.
What made you want to pursue broadcasting as your major?
Growing up, I was interested in all things technology. I did a lot of technical theatre in high school as well as working with computers and editing. The broadcasting focus allows me to advance and use my technical skills to create something that I think is pretty neat. Broadcasting can be as challenging as you want to make it. I enjoy challenging myself and friends around me to produce something that is really cool and advances our knowledge.
What is the most rewarding aspect of your major?
I would say the most rewarding thing about working in speech communication is that I get to meet and work with a lot of awesome people. This is a major that requires you to branch out of your major into other people's lives. I like that I get to work with other clubs and majors to create broadcasting content for them.
What organizations are you involved in and what positions do you hold?
I am currently the treasurer of the National Broadcasting Society. This is my third term in that position. I am also in my second term as the program director (vice-president) of MUTV and a proud member of the University Honors College.
Tell us what you do as program director for MUTV?
As the program director of MUTV, I am in charge of scheduling programming that broadcasts all across campus. In years past, this was my primary job. However, this year especially, I am in charge of upgrading our equipment, working with vendors and installing and learning the latest and greatest technology for MUTV. This has really become my main focus in MUTV. MUTV entered the digital HD era this year. We underwent a great upgrade that has allowed us to learn much more, and do so many things that we were never able to do before. We are still looking to push our technology upgrades further to make ourselves a premier campus television station.
What has been your favorite event to cover for MUTV and why?
One of my favorite moments of MUTV, was when we took a 3 hour road trip to Lock Haven. We decided that it would be fun to follow the Millersville women's volleyball team up there. So we packed up our mobile production unit (MPU). The mobile production unit is pretty much an entire studio that we roll down the street. We web streamed the event for parents and students to watch. It was just such a great time because it was a good bonding experience, and it was such a challenge to move into an unfamiliar location and get everything set up and working.
What has been the craziest thing to happen while covering an event or on set?
One of the craziest moments, and one of my earliest MUTV moments, was the annual homecoming parade, my freshman year. It was that strange year that we got a massive snowstorm in the middle of October. I had the pleasure of setting up the parade shoot during this snowstorm at 5 a.m. in the morning. It was one of the craziest things I've ever done. But it was really cool getting to walk on the roof of the Student Memorial Center during a snowstorm and doing snow angels over the Galley.
Why do you believe it is important for students to be involved on campus?
I think that it is so key for students to get involved on campus at Millersville. Millersville has so many unique and amazing opportunities for students that it is really silly not to get involved. You meet so many great people and you get to do amazing things. I think that being involved on campus is really what makes college so much fun! Millersville gives you these great opportunities, it is your job to take them and run with it!
You were recently chosen to represent Millersville University at the Sony National Association of Broadcasters (NAB)Student Experience Program. What was your reaction when you found out you were chosen?
I was absolutely floored to be chosen for the Sony Education Experience. It is such an honor to be representing Millersville University at this huge conference. They only select around 50 students from the country, so to know I was one of those 50, I felt very honored.
What will the conference entail?
At the conference, I will receive training on Sony products. Then, I will attend the NAB conference, where I will work at the Sony booth demonstrating their products and talking with other vendors, consumers and professionals. It is a great opportunity to learn new things about Sony products, and a great way to meet professionals from all over the country.
Have you won any awards/honors?
I won the Steinman Communication Award Scholarship. I am the winner of the Clarence Shock Foundation Scholarship. I am also an Eagle Scout through the Boy Scouts of America.
What is your favorite hobby?
My favorite hobby is to play the piano and the organ. I have played piano almost all my life and I really enjoy making music. I find it very challenging, but also very relaxing. I am a pianist at the John Newman Center on campus.
How has Millersville helped you succeed?
Millersville has helped me to succeed in many different ways. They have provided me so many opportunities to try new things and have given me the skills necessary to be competitive in the professional field. Our television station recently underwent a huge upgrade. This has allowed me to work with old equipment as well as the latest and greatest technology. In addition, I was nominated by an employee at Millersville for this Sony program. I believe this program will open many doors for me in the future.