Student Profiles - Ger Lor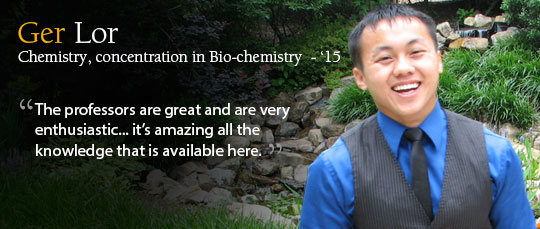 Ger Lor
Class: Junior
Major: Chemistry with a concentration in bio-chemistry
Hometown: Lancaster, Pa.
What made you want to attend Millersville?
Boon Chan Lor, my brother, graduated in bio-chemistry from Millersville in 2010, when I graduated high school.  I was interested in science - chemistry and biology.  He said at Millersville, I could get both biology and chemistry with a bio-chem degree and do something in the medical field or have a lot of opportunities.
What do you like most about Millersville?
The professors are great.  They're very enthusiastic about their teachings.  Dr. Edward Rajaseelan in inorganic chemistry is very enthusiastic – I've used what I learned from him at work.  And Dr. Steven Bonser in organic chemistry taught me reactions that I now use every single day at work. 
What's been a highlight during your time at Millersville?
Hanging out in the chemistry lounge with fellow students, them helping me and me helping them.  You get a real feel for the how college life is really like.  It's amazing all the knowledge that is available here – students have different views and understanding of chemistry.
Tell us about your work with NeverWet?
Of all the chemists, I've been there longest - it was two years on July 5.  I work part-time during the school year and work 40 hours during breaks.  At NeverWet, we have developed a super hydrophobic coating that completely repels water and heavy oils. We had no idea it would be this big.  A video on it had two million hits in two weeks.
Your parents have to be very proud. 
At first when I showed them the technology on metal, they didn't know what it was.  They said, "oh, that's cool."  Now that it's out on the market, they believe it.  When a bigger company like Rust- Oleum believes in a product and brings it out, puts it on the Internet and in stores, you can see that it really is good.
Best piece of advice?  
-Do as much as you can, while you still can, because time isn't going to wait for you. 
-Do what makes you happy. 
What is something people would be surprised to know about you?
I have a lot of hobbies and skills.  Besides being a bio-chemist, I play guitar, piano and sing.  I do a lot of traveling in singing competitions.  And, I'm really into working out and exercising.  Health is one of my biggest hobbies – actually any physical activities.  I'm a handyman, too, I like to tinker on cars, build things. 
Do you have plans after graduation?
Working at Neverwet – it's a very promising type of business where I have fun.  We're figuring out why things happen before many people even know it exists.
Any advice for high school students?
You don't have to be the smartest person to do something great or eye-catching. Everyone has the potential to do something great.  And, work hard at something you love, so you have fun.