Student Profiles - Christian Copeland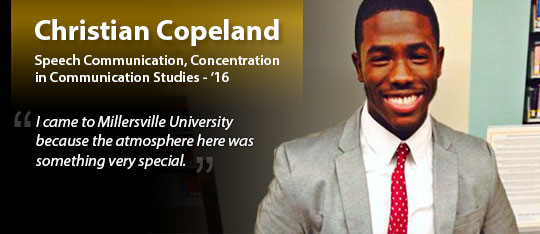 Christian Copeland
Class: 2016
Major: Speech communication – concentration in communication studies
What brought you to Millersville University?
I came to Millersville University because the atmosphere here was something very special. I adore the community and the people that attend this college. The people here are so friendly and I felt like this University was the perfect match for me.
What is your favorite part about Millersville?
My favorite part about Millersville is the opportunities they have to offer. There are plenty of organizations you can join, Millersville has fantastic professors and it is stationed in a relatively safe city! It's just a wonderful place to be.
What organizations are you involved in on campus?
The organizations that I am involved with on campus are the Black Student Union, Student Senate, NAACP, the Multi-Cultural Outreach team, Millersville Concerned Men and Artists Rocking Together.
How long have you been a part of the Black Student Union (BSU)?
I have been a part of BSU since I was a freshman and it has been one of the greatest opportunities I have encountered since attending Millersville University.
What are your responsibilities as president of BSU?
My responsibilities as president are to delegate properly and act as the "face" of the organization. I oversee everything the executive board does and make sure they have the necessary tools to be able to execute that particular task. As well as being professional and setting a good example for my African-American peers. I go to meetings and enjoy almost every moment of being the President of this great organization.
What is your favorite event that BSU has hosted?
My favorite event that BSU hosted was the Maryland trip. This trip was absolutely amazing! Not only were students entertained but they were also enlightened and educated. Students had a great time at Maryland's National Aquarium which was entertaining, National Great Blacks in Wax which enlightened and educated students about African-American history and to end the night, we all went to Philips Restaurant.
What does BSU bring to Millersville? What do you hope for it to accomplish?
BSU brings activities to campus that are interesting, exciting, and substantial to University life. We bring diversity among students and do things that the student body will not only enjoy, but remember as well. Meaningful organizations such as BSU make Millersville the beautiful community and University that it is. We hope that we accomplish the goal of encouraging diversity not only on campus, but through all individuals to understand the purpose of becoming one; we are nothing without the helping hands of our peers.
How has Millersville University helped you succeed?
Millersville has helped me succeed by being a reliable source. If I need a tutor, I know that Millersville will have one for me. If I need help from my professors, I know they will be there for me. If I need to use the computer lab and print paper, I know that Millersville's printers are accessible to me. These things are essential to my success and Millersville provides these necessities for me.
What do you plan to do after graduation?
After graduation I plan to attend graduate school and keep furthering my education until I get my doctorate degree. Hopefully after I receive my degrees, I see myself becoming a broadcaster or a motivational speaker which are both professions I think I would flourish in.
Do you have a part-time job?
Yes, I have a part-time job. As of now, I am a peer specialist and I work a good amount of hours.
If you could offer one piece of advice to incoming students, what would it be?
Dedication comes within the soul; in order to be successful you need to be dedicated to reaching your goal. Never quit and never give up. Our true success sprouts from our failures! Always remember, the people that work the hardest actually care, people who care actually work the hardest.