Closing Early
Millersville will close at 2:30 p.m. today due to the winter weather. That means any classes, both on campus and off campus, scheduled to begin at or later than 2:30 are cancelled. The complete policy is available at: Policy on Snow Delays/Cancellations.  All Dining locations will remain open today with the following exceptions: Galley – Closing at 2 p.m., Cyber Café – Closing at 2:30 p.m.  Ayako's Blue Fish, scheduled for tonight  on campus, will be rescheduled.
 
Millersville Admissions
Undergraduate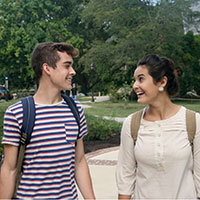 Whether you're a High School Senior or looking to transfer from another college, we invite motivated students to join a caring campus community that demands the best.
Graduate
Apply to our impressive array of degree programs, certifications, and services offered to post-baccalaureate students.