Millersville Academics
Millersville Academics Home
Undergraduate Academics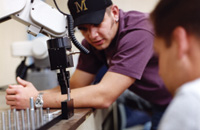 Our three colleges offer innovative programs taught by leading professors in their fields who produce learning opportunities that are both comprehensive and deep, often beyond the depth available in larger universities or private colleges.
Learn how you can benefit from the vast and varied opportunities Millersville offers undergraduate students (bachelor's degree).
Graduate Academics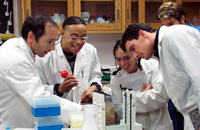 The graduate programs at Millersville University are designed to provide opportunities for post-baccalaureate students to pursue scholarly and research activity and to obtain knowledge in an advanced field of study.
Learn about our impressive array of graduate degree programs, certifications, and services offered to post-baccalaureate students.
Other Academic Opportunities
Advance your coursework and reach your degree faster with our Summer Sessions, which offer more than 250 online and face-to-face undergraduate courses. 
Get started now!
Distance Learning
Through its distance learning and off-campus programs, Millersville University offers degrees, certificates, and individual courses to students like you – in southeastern Pennsylvania, across the Commonwealth, and around the world.
Professional Training and Continuing Education
Since 1959, Millersville University has offered comprehensive graduate programs of distinction, designed to ensure promising futures. With over 50 graduate degree and certification programs, we're sure you will find a program that will put your knowledge and life experience to work for you. Coupled with the academic expertise of our faculty, you'll be on your way to a future full of professional challenges and fulfillment.