MU Closed Wednesday
With the forecast of "a wintry mix changing to snow," Millersville University has decided to close the campus for Wednesday, November 26.  It is important to note that ALL classes will be held, as scheduled, the remainder of today and tonight.  Only essential personnel are to report on Wednesday. 
 Have a safe and enjoyable Thanksgiving.
ELC Mission Statement & Goals
MU Home >
Mission Statement & Goals
Our Vision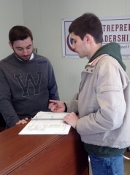 The Entrepreneurial Leadership Center at Millersville University has been officially launched in conjunction with the University's new Entrepreneurship Minor. The ELC supports academic research, education and community engagement in entrepreneurship. In addition, the ELC strives to advance both the science and practice of entrepreneurship so as to stimulate economic growth and development through new company formation, technology commercialization, and improved competitive performance of entrepreneurial ventures. 
Our Mission
Our mission is derived from three core values:
to lead the advancement of the science and practice of entrepreneurship;
to educate aspiring and practicing entrepreneurs in the art and science of value creation; and
to serve the entrepreneurship community (broadly defined) through the effective design and delivery of value-added programs aimed at strengthening the economy/